by Emily Hunt , eCommerce Specialist
Original Publication – March 23, 2021 | Updated August 20, 2021 on https://www.similarweb.com/
When Nintendo incorporated product bundling into its marketing strategy, console sales soared by more than 100 thousand units and video games by 1 million. Given the power of bundling to increase sales (and revenue), Amazon bundles have become a popular way for sellers to drive up online sales. In this article, we'll explore product bundles – the pros and the cons – so you can see if it's right for your eCommerce strategy. We'll also share six tips to create profitable Amazon bundles.
What are product bundles?
If you've ever bought a value meal with french fries, a burger, and a coke, you're already familiar with the power of bundling.
Also called "packaged deals," product bundles include several goods and services sold to consumers in one combined package. The pricing of the total bundle is typically less than its individual items.
What are Amazon product bundles?
Amazon bundles consist of single items sold together. The number of items ranges from two to five. The entire bundle has a unique Amazon Standard Identification Number (ASIN) or Universal Product Code (UPC). This new UPC doesn't correlate to any specific item in the bundle.
Bundling allows sellers to create multiple listings for Amazon's catalog without actually launching new products.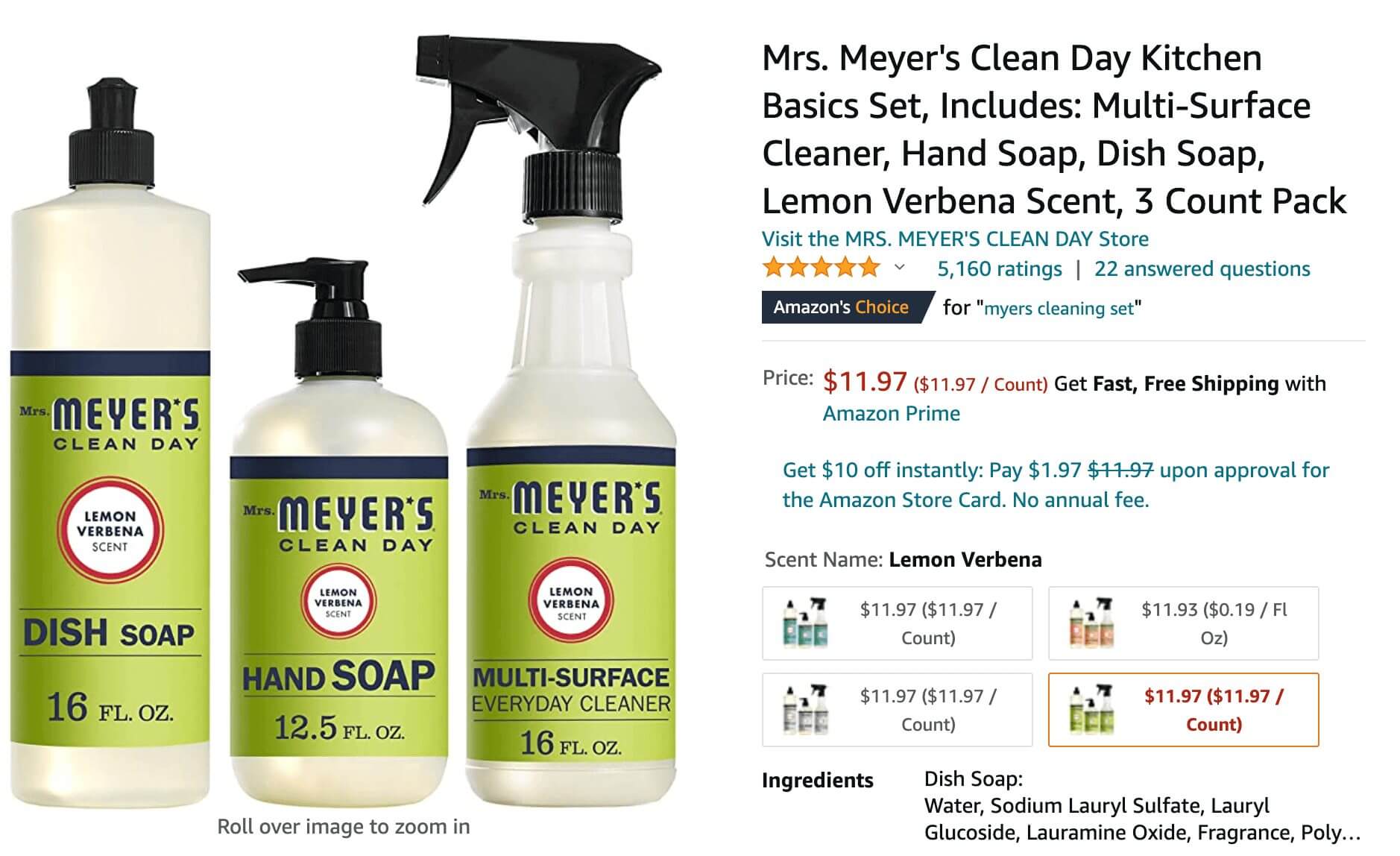 Mrs. Meyers Cleaning Bundle, Amazon listing
Bundles vs. multipacks
Often confused, bundles and multipacks are not the same. A multipack consists of multiple items packaged together (e.g. five blue t-shirts), with the same stock-keeping unit (SKU). Bundles contain multiple items which are different but complement each other, packaged together.
Amazon Seller Central guidelines help define the difference:
"If an item is a multi-pack, such as six pairs of socks, list it as a single product and not as a bundle. See UPCs and Item Package Quantity for Multi-Packs."
What are virtual product bundles?
Amazon's Virtual Product Bundles (VPB) program, currently in Beta, allows sellers on Amazon's brand registry to bundle more efficiently. Brand owners can offer product bundles without packaging them together or changing to fulfillment by Amazon (FBA) inbound shipments.
Amazon assigns a unique SKU for the bundle and automatically updates quantities depending on the lowest-stock item in the FBA inventory. Creating a VPB is free – sellers can create and edit the product title, description, price, and images accordingly. For details and eligibility, check out Seller Central.
Why create an Amazon product bundle
Pros for retailers
Why retailers are excited about bundling:
New, unique listing. You'll get a fresh listing for Amazon's catalog without launching a new product.
Increased average order value (AOV): Even if individual items bundled together are discounted, multiple products mean higher AOV.
Competitive advantage: Since unique Amazon product bundles are featured in Amazon's Buy Box (white box on the right-hand side of the product detail page) bundles can ensure more exposure for catalog listings. Customers add bundles to their carts seamlessly from the Buy Box. Sellers would need to have all of the exact same items and packaging to sell on your listing.
Higher profitability: For those using Amazon fulfillment, Amazon deducts FBA fees from one item, rather than each item separately, bringing higher profit margins.
Move low-cost items: The cost to ship standalone, low-cost items may not be worth the shipping fees. Since bundling increases AOV, now the cost may be worth it!
Sell slow-moving inventory: Can't get rid of certain products? Bundle them with more popular ones!
Added value for customers: Product bundles can be priced equal to or lower than the items sold individually because of the savings for the seller. Bundling also improves the customer experience for shoppers, since all the products are on one page.
After all, happy customers are more likely to be repeat loyal customers and bring recurring revenue.
Cons for retailers
Check out the cons and make sure bundling is right for your brand:
Greater need for customer reviews: Bundle ASINs have separate reviews and ratings from those of their components. Since reviews of existing, individual products won't transfer to the bundle, sellers need to generate reviews from scratch.
Forbidden categories: Forget about bundling if you sell DVDs, video games, books, and products in other categories (more detail below).
Permanent: After the bundle is created, the bundle cannot be modified (a new listing would need to be added).
How to create profitable Amazon bundles
Look at items "frequently bought together" to help determine items to bundle
Ready to move forward? Use these six tips to choose the best products to bundle.
Only choose eligible products: Check out Amazon's policy to make sure you do not bundle ineligible products. In addition to items already mentioned, FBA prohibited items, products with manufacturer warranties, products you're not approved to sell, and generic products are ineligible for bundling.
Make sure the bundle contains complementary items: Bundles should contain complementary products to comply with Amazon's detailed product bundling policy. To find these, Similarweb's Shopper Intelligence "brand basket" feature identifies items consumers already put in their virtual shopping baskets when buying your brand.
Consider product recommendations: Be sure to check out products "frequently bought together" according to Amazon's algorithms as 35% (approx.) of Amazon purchases come from product recommendations.
Choose evergreen products: A bundle cannot be changed without creating a new product listing so it's best to include evergreen over seasonal components.
Consider wholesale bundling: Rather than creating a new private label product, identify brands already performing well on Amazon, open a wholesale account with that brand, then resell on Amazon.
Be able and willing to discount: Since the most successful bundles offer attractive discounts, ensure that the total bundle price is less than the sum of its products' prices. Be wary of including items with low inventory, which may not make sense to discount.

Cross-shopping behavior dashboard for Apple computers, via Shopper Intelligence
How to create a bundle listing on Amazon
Here's some of our top do's and don'ts for eRetailers.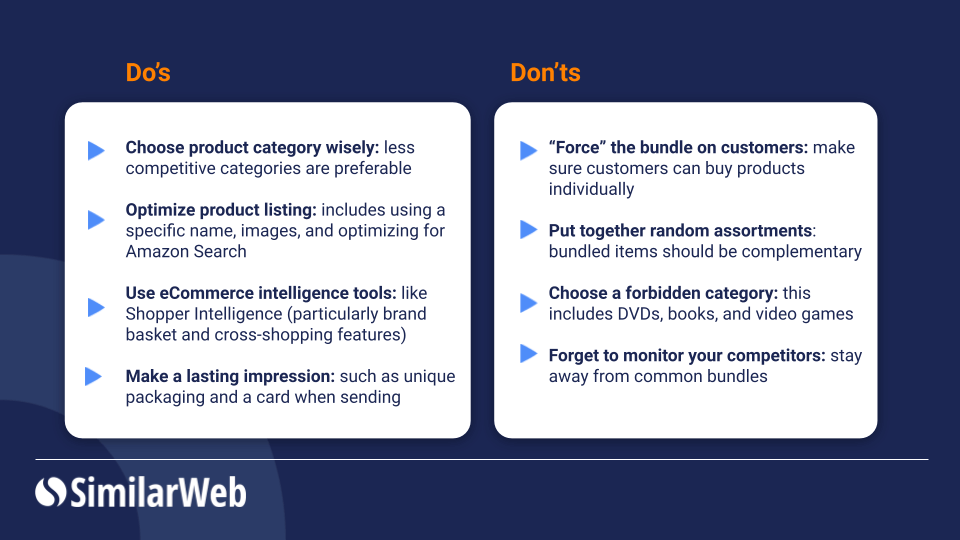 Do
Choose your product category wisely: Individual products may come from multiple categories but you need to just choose one for your bundle – ideally the least competitive. To help decide, consider the percentage of paid vs. organic search terms within a product category. If paid search is greater than Amazon's (11%) you may have tough competition.
Optimize your product listing: Use an explicit name and images following best practices in Optimize Your Amazon Product Listings.
Optimize for Amazon Search: Ensure your product stands out among others on the giant eCommerce marketplace with these Amazon SEO tips.
Use eCommerce intelligence tools: Gain insights at the category, brand, and product-level with tools like Shopper Intelligence.
Determine cross-shopped brands for bundling with Shopper Intelligence's Brand Basket feature
Make a lasting impression: When sending, use unique packaging to stand out to help customers remember (and make repeat purchases) from you.
Free Cross-Shopping Report: Amazon Skin Care
Don't
"Force" the bundle on customers: Make sure customers have the option to buy products individually. When customers were forced to buy the bundled package only in the Nintendo study — sales declined by 20% for both video games and consoles.
Forget to monitor your competitors: Understand (and stay away from) common bundles offered by competitors.
Choose a forbidden category: As mentioned, you don't include items like DVDs, books, or video games.
Put together random assortments of products: They should be complementary.
Want to start creating a bundle listing on Amazon product bundles?
As mentioned, bundle choices last forever so be sure you do your research before investing your resources to create your first Amazon bundle. Similarweb's Shopper Intelligence provides insights to help, like:
Paid vs. organic search terms per Amazon category
Cross-shopping behavior
Brand basket analysis
Best performing brands within a category (applies to wholesale bundling)
Purchase frequency, including seasonal patterns